Archive for August 11, 2011
Announcement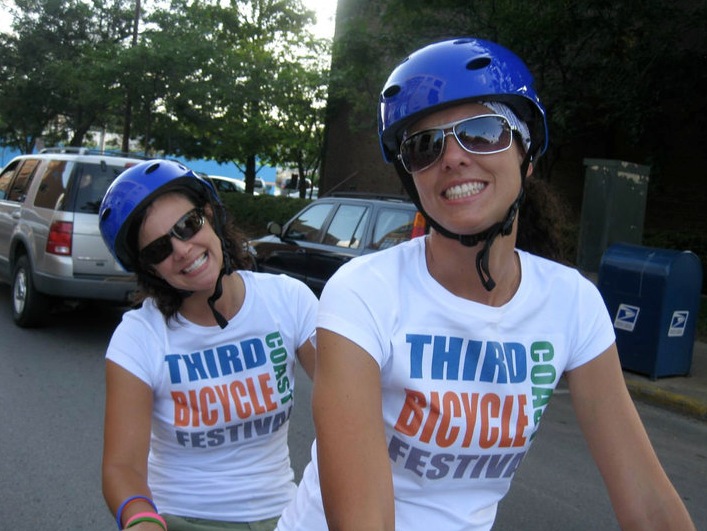 Ready for another festival Traverse City? Here's a quick shout out to the Third Coast Bicycle Festival. Below is a screen grab of the schedule with events beginning tomorrow morning and at Friday Night Live on Front St. downtown (skills demo, bike rodeo and Cherry-Roubaix gut busting sprints). The Record Eagle has nice coverage of the charity ride on Saturday morning which is followed by the criterium through Old Town (The Ticker). Next week is full of ambitious riding events, but also more accessible ones like Two Wheel Tuesday, the Seersucker Ride and a film night on Thursday.
Last I heard they were also looking for more volunteers. If interested, send them your contact info.
They have a pretty lazy Twitter feed, but you can follow it at TCBikeFest for any updates.
Park It (Where?)
__
In the new series on bicycle parking at area businesses, we have the first poor and ugly-a zero on the matrix-ouch. Jimmy John's at the strip mall on Front St. has absolutely nothing in the way of bicycle parking. There isn't even a pole near-by, let alone a bicycle rack.
In their defense, the entire strip mall is under the same condition. My guess, to make a change a request to the property owner needs to occur. Anyone know who that might be? The City's tax parcel map reveals it to be the Shaw Investment Co. and a quick perusal of the web reveals little information.
My suggestion for the owner, as there is little space not devoted to cars here, use a parking spot in front of the Thai Cafe (next door) for  on street/parking lot bike rack. Or, a creative solution might be something less than perfect, but something, like they did at a Jimmy John's in Grand Rapids shown in the picture to the right.
Again, below is a matrix for evaluating bicycle parking at businesses. Eventually, I'll create a simple request form for people on bicycles to leave with businesses in need of bicycle parking. For now, we judge. And at Jimmy John's, park at your own risk…luckily, they serve the fastest sandwich I've ever seen.
_
Related articles